Indianapolis Car Key Made
We offer car key replacement for any car, from the car keys of your early cars like the ones made in the 90's to the modern cars of the 21st century. We also specialise in replacing the modern car keys which are mostly electronic car keys using transponders. In this regard, all that is needed is a piece of specific information regarding your car which entails details regarding the make, model and version of the car as well as certain serial number information. This car information allows for making or finding a key and programming the key to fit and open the lock of your car.
Car Key Replacement Indianapolis offers you all the services of car locksmith at a very low and affordable price at your convenience. Our technicians are well trained and disciplined to work with you while providing you with the best of services to serve your interest. We also maintain a friendly relationship with all our clients which promotes giving and receiving of services. Contact us for assured assistance concerning all your car key replacement for we are committed to seeing your car key problem surmounted without delay.
TYPES OF CAR KEYS
As there are more than normal security breaches in this present age and as technology advances, to put in check all the sabotage in the security of cars, residential and commercial buildings and other structures for specific purposes, different kinds of sophisticated keys and locks have been invented. One good news is that these keys and locks are performing up to expectations which have put them in high demand all over the world today. Such sophisticated keys include but not limited to smart keys, high-security keys and laser keys which are among the top sophisticated keys.
Smart Keys
Smart keys are electronic gadgets that are used in accessing and authorization of a system of machines. The smart key is mostly seen and used in cars. The key sends signals using one of several antennas in the car's framework through a radio pulse generator lodged in the key case. Depending on the system, the lock of the machine or vehicle is automatically unlocked when a button or sensor on the door handle or trunk release is pressed. The use of a smart key system does not render a mechanical backup useless. The mechanical lock and key systems are usually in the form of a spare key blade supplied with the vehicle.
High Security Keys
High-security keys have a good number of benefits over ordinary keys. These high-security keys enhance the security of your cars, buildings and other systems that have locks. One of the benefits is that only authorized holders can get a replacement key when the key is lost or damaged. This controls the creation of keys, duplication and distribution of a key for a lock which invariably makes the structure secured with asking safer lock.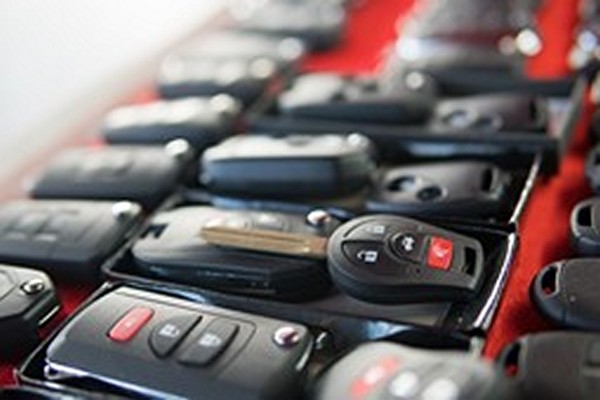 Laser Keys
Laser keys or laser cut keys are that add to the security of your car. These keys are very hard to pick and very difficult to duplicate without the right information on the type of car and key from the manufacturers. Laser keys have a high precision cutting as well as groves running in the middle of the key which increase the security of your lock. Another extra security plan in the laser key is the inclusion of chips and transponders which do not let the lock open or start when the transponders not at a specified distance from the lock. With these specifications and sophistication, the keys, viz smart keys, high-security keys and laser keys, are very different from ordinary keys while also giving a kind of security that is very high and almost guaranteed. These types of keys can only be repaired, replaced and duplicated by a competent locksmith with sophisticated tools and equipment that allow for such precision.
We give you a service with all car lock and key related problems using a set of modern tech and sophisticated tools and equipment which keep your car locks and keys working in perfect condition. In a bid to serve you better, we keep you from all delays by responding to your call for help within the hour to keep frustration at bay from you. You can also access our services any time of the day because your welfare is our concern. You can contact us anywhere you are for your car lock and key system related issues, and we will dispatch a team of highly skilled locksmiths to surmount your car key problems immediately without any delay. Our services are readily affordable for all our clients as we are committed to giving you a service that is second to none. With Automotive Locksmith, Indianapolis, you are assured of the security of your car as we have got your car lock and key system covered.
Chip/Transponder Keys
We Make Keys For Cars On Site Fast. Keys For All Types of Vehicles. We Cut and Program Chip Keys On site and Have Them in Stock. 24/7 Mobile Service
Car Remote Head Keys
We Replace Remote Head Keys For Cars. We Cut and Program Car Remote Head Keys Onsite and Have Them in Stock.
Car Remote Replacement
We Carry Car Remotes For Most Models and Able to Program Car Remotes Onsite Fast and Have Them in Stock. Services Are Available at Our Shop by Appointment. We Are Open 24 Hours For Emergency Mobile Services.