Indianapolis Commercial Locksmith
Lock out situations in your business can be a great problem. Locks especially made for commercial use are generally sturdier and more complex. Having an expert certified locksmith at hand can be the difference between getting in in a few minutes, and having to replace your lock, and keys, altogether. We can help you enter your business if you lost or forgot your keys without having to damage your locks. Always using the best tools and employing the most cost effective methods in the industry.
Locks Repair/ Replace
Locking mechanisms suffer the effects of wear and tear like any other piece of hardware. Sometimes they are worn out beyond repair, sometimes it is just time to change your locks to enhance your security systems on the whole. Take a look at our locking systems catalog and find the best combination that will certainly help you guarantee the safety of your goods, and that of your employees.
New Locks Installation
When the time comes to completely revamp your security measures, Indianapolis Commercial Locksmith is the company that offers the greatest variety of solutions. Always stay on top with the greatest selection of locks, deadbolts, access control systems, intercoms and more! Commercial buildings have many offices to protect. It is important that you completely control the access to each with a master Key or an access control system.
We are licensed-bonded & insured. We are proud to say we can claim many of our commercial accounts are long time customers of not just a year or so but Customers who have been partners for well over a decade. Call us today for our commercial locksmith and security services such as:
Re-keying Services: From the simplest of desk and file cabinet locks to complex multi-level masterkeying, we do it all.
Door Service: From door closers to exit device installs and hing replacement, we do it all.
Access Control: From battery operated keypads to cloud based RFID proximity card systems, we do everything to keep your business safe.
Video Intercoms and IP Cameras: We offer intergrated solutions for managing visitor access and facility monitoring.
Homeowners Association Locksmith: We are Indianapolis and Surrounding Cities "GO TO" Source for Access Control systems and locksmith services in HOA'S. From pool gate remote access control and monitoring to re-keying your units, we can get the job done.
High Security Lock Systems: We offer High Security locks with patented restricted key control against unauthorized duplication, as well as pick and drilling attack resistance.
Landlord-Tenant Re-Keying: Use us as your main source for fast and reliable multi-tenant or single residence Re-Key locksmith Service Provider
And More: We serve all the needs of Commercial Property Owners in the Indianapolis Area. If Security is your No 1 concern, We do it all.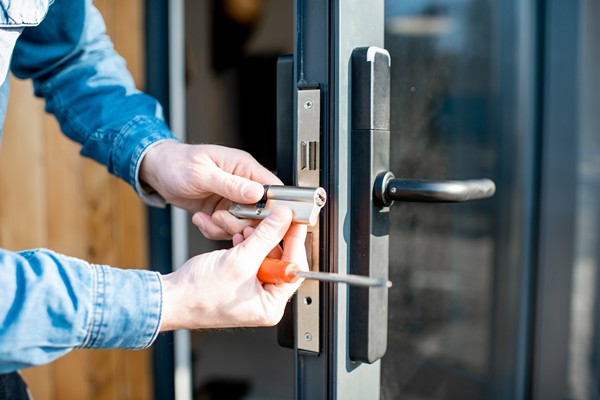 Push Bars
Comply with regulatory standards in Indianapolis, and make sure your employees are always safe. Install push bars and panic hardware always following federal and local safety regulations.
Lock Re-key/ Master Key
Large factories and institutions with hundreds employees tend to have high employee turnover rates. This can create a problem when some of them have keys to vital areas. Prevent these problems by rekeying your locks periodically.
For office buildings a master key is necessary for maintenance and security. It restricts access to certain areas depending on access privileges while allowing you complete freedom of movement. Great for large buildings that need regular maintenance.
High Security Locks
For businesses that deal with great volumes of information or goods, having a high security lock in strategic places is paramount. Check out our great selection of high security doors and high grade locks.
They are all designed to withstand direct attacks with the most common tools. The best way to make sure your goods and information are safe is to call Indianapolis Commercial Locksmith and get yourself the best combination of door and locks for your business or institution.